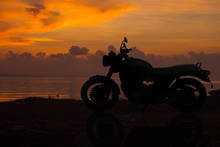 When you're the proud owner of a motorcycle, you want to enjoy it as much as possible. Whether you use it for exciting weekend adventures or for your daily commute to work, there's plenty of possibilities. However, if you're an experienced rider, you probably know that your comfort level can quickly go south if you're not careful. After all, your body can only take so much before it begins giving you issues that you don't want to neglect, like sore muscles and stiff joints. Great River Road Harley-Davidson® has provided some helpful tips below on how to make your ride more comfortable.
If you're still shopping around for the perfect bike, stop in and see us! We've got an impressive selection of Harley-Davidson® motorcycles for sale that you don't want to miss out on. We're located in Quincy, IL, near Moline and Springfield. We also serve those in Columbia, MO.
Utilize Cruise Control
At some point or another, you've probably spent endless hours in the car on a long road trip. Fortunately, you have access to cruise control that can save you from a tired leg stuck on the gas pedal. You'll give your limbs a much-needed break when you initiate cruise control. The same concept applies to your bike! With the cruise control feature on your Harley-Davidson® motorcycle, you might even save yourself a few breaks from the road since your wrists won't tire as quickly or as easily.
The bad news is that not all bikes offer this feature. However, it tends to come standard on touring models that are built to go the distance. If you haven't purchased a bike yet and you plan to log a lot of hours on it, you can specifically search for models that come with cruise control. On the other hand, if you're already a Harley-Davidson® motorcycle owner and you don't have access to this feature, you'll need to take another approach to make your ride more comfortable. You can install an accessory that'll provide you with the cruise control ability.
Consider Your Seating
It's not uncommon for the standard seat that came with your bike to be less than comfortable. Luckily, there are many upgrade options out there that'll make your riding experience even cozier. One option is an inflatable cushion that equalizes the forces over the weight-bearing areas, which utilizes the same technology as wheelchair cushions.
Another seating option is made from polymer cushioning, which uses the same materials found in hospital beds to prevent bed sores. If you really want to get comfy, consider materials like sheepskin covers. It won't be too hard to find a comfortable seating option for your Harley-Davidson® motorcycle.
Invest in a Windshield
The wind beating against your body as you ride at high speeds is another cause for concern. You'll feel fatigued a lot sooner and more intensely without protection from the harsh wind. When you invest in a windshield, you'll boost your endurance and enhance your comfort. Not to mention, it also helps to prevent rain, snow, bugs, debris, and so on from affecting your ride. Keep in mind that installing a permanent windshield can come with some drawbacks. This is why so many riders prefer to invest in a removable windshield for their Harley-Davidson® motorcycle. You'll get the best of both worlds because you can attach it while you ride and remove it when you're not actively riding for easier storage and transport.
Stretch it Out
You might not view riding your motorcycle as a form of exercise, but that's pretty much what it is. You're engaging core muscles as you ride for several hours. This is why it's critical to stretch before and after each ride. You'll want to stretch all the muscles you'll be using, like your legs, arms, shoulders, neck, and core. You might be surprised by just how much this helps cut down on rider fatigue and soreness.
For those who are still in the market for a new Harley-Davidson® motorcycle, we're here to help. Give us a call or visit our dealership to check out our inventory! Great River Road Harley-Davidson® is conveniently located in Quincy, IL, near Moline and Springfield. We also serve Columbia, MO